Tummy Tuck or Abdominoplasty
Tummy Tuck or Abdominoplasty is a surgical surgery that helps to remove fats and excess skin from the abdominal areas which is sometimes from post pregnancy, obesity,aging and other factors the leads to a more sagging abdominal skin.
TYPES OF TUMMY TUCK:
Mini Tummy Tuck
Full Tummy Tuck
ANESTHESIA:
General Anesthesia
HOURS OF SURGERY:
2 hours or more (depending on the amount of fats need to be remove and the severity of skin lose)
LENGTH OF STAY:
Must be in Bangkok for 10-14 days (if cannot stay more than 10 days we can give medical certificate to remove the stitches on her country).
Register to get more discount.
Why BB Clinic
Certified ISO 9001.
Operating room with safety standards.
Partnership with Top Clinic which is a leading surgery clinic in Korean.
Experienced doctor and uses advanced technology.
Operate by surgeon specialist.
Nursing care closely monitor patient during clinic stay.
Tools and modern equipment with safety standards.
Anesthesia Machine hospital standard.
Direct consultation with a doctor and no consultation cost.
SCHEDULE FOR TUMMY TUCK SURGERY:
1st day- Consultation with Doctor, Blood test and Pay Deposit ( at least 20% of total price )
2nd day – Surgery
5th day-7th day – Stay in hotel for recovery and follow-up check up with doctor after 7 days and removal of stitches.
10th-14th day- Removal of Stitches
PREPARATION:
Must inform staff for any drug allergies, food allergies or any other allergies.
Must inform for any medical issues ( High Blood Pressure, Heart Problem, Diabetes )
Inform for any medications you are taking. It can be prescribe by doctor or not or any herbal medicine.
Must stop taking Aspirin 2 weeks before surgery.
Stop vitamin E Oil 1 week before surgery
Stop smoking 3-7 days before surgery and a month after surgery.
No food or drinks ( includes all liquid products such as water, juices, coffee, etc ) 6-8 hours before surgery
Remove all jewelries, denture, nail polish and other metals in the body.
AFTER SURGERY:
Pain is expected after the surgery. We will give you pain medication and the pain is from day 2-3.
Removal of stitches will depend on each of our doctor's recommendation but usually after 10-14 days or as long as the wound is already dry.
Swelling and bruising is expected after the surgery but very minimal. You will have a medication for this.
Tightness of the skin may occur in a week or two or maybe a month which is normal after Tummy Tuck procedure.
Avoid strenuous activities, heavy exercise 2 weeks to 1 month after surgery.
Use your compression garments whole day and night for about 3.
Can resume working 7-10 days after surgery or depending on patient's capacity to work.
Scars can be visible for 6-12 months. Apply scar cream or scar gel to help lessen the scar.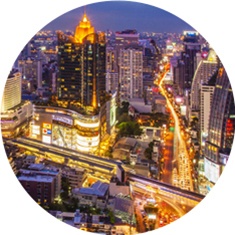 Locate on Prime Area (Sukhumvit)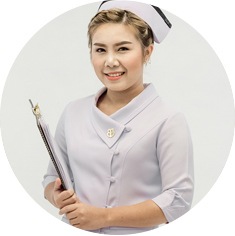 Excellent English Speaking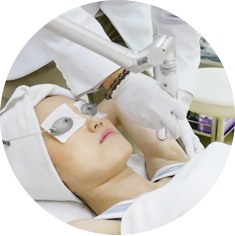 Highly Skilled & Experienced Doctors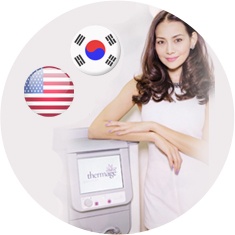 Korea & USA Technology Imported
I weigh 187 lbs at the age of 48 and with 5 children. My tummy looks terrible. So I decided to search for a clinic in Bangkok that would fit my budget and reference. I go through the internet and found this BB Clinic. I emailed BB Clinic and I'm so surprised that they answer quickly and gave me a complete answer to all my questions. I immediately decided to book an appointment for them as we really are planning to go for a family vacation. I met the doctor and he explains to me everything and I'm satisfied with his explanations and I feel comfortable that he could be able to do the right thing for me. That's when I decided to do at BB Clinic as I had a trust on them.
Now I had a flat stomach and I can now wear clothes that I want. No hanging fats on my abdomen. I also do exercise to help me more leaner and fit. I'm so happy and satisfied with the result. No after surgery complications as I follow all the instructions from Doctor and maintain a healthy diet as I don't want to get back on that situation where I cannot longer wear nice clothes. Thank you so much BB Clinic and to Doctor Chairat and Doctor Vitusinee who did my surgery. Also to all the staff thank you so much.
I went to 4 clinics before choosing BB Clinic. The doctor gave me time explaining about the procedure during the consultation and I feel comfortable talking to him which made me feel at ease about my Tummy Tuck procedure. My Tummy Tuck Surgery went well. Post-op and recovery, everything is okay. My tummy is flat now. My belly button position is perfect. BB Clinic is amazing!!! From consultation to surgery to post-op surgery. It was a fantastic experience. Professional doctor, professional staff.
Dr. Chairat Burusapat

Dr. Pattaya Tanthanatip
Dr. Paveena Lawanlakkana
Dr. Vitusinee U-dee
Curriculum Vitae
Name: Chairat Burusapat Office Address: Division of plastic and reconstructive surgery, Department of Surgery, Phramongkutklao Hospital, Bangkok, Thailand Education: Doctor of Medicine 1998 Faculty of Medicine, Chiang Mai University Certificate: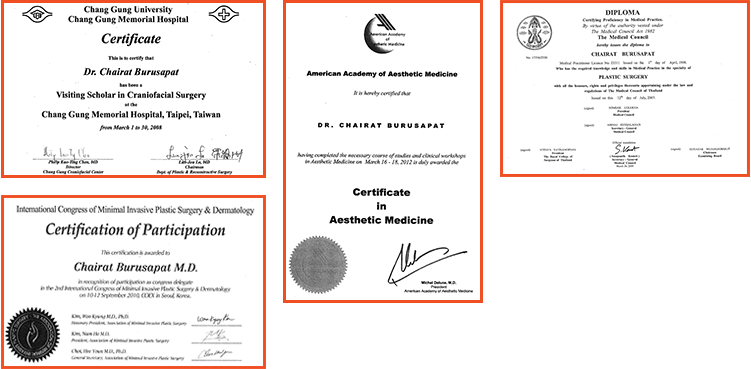 Read more..